If you see a swarm and want a responsible beekeeper to come and catch it…  we have a list.
The Edmonton and Area swarm catchers for 2019 are listed by name, email, phone number and then what area they cover.
Call one of the people for the right area and be prepared to answer a few questions about:  How high? How big?, When it arrived? and if you own the property/house?
 Malcolm Connell, connellmjm@hotmail.com, 780-239-9649,         

Edmonton

Jason Miller,

jasonkmiller79@gmail.com, 780-686-8626

,     

Edmonton – South East

Michael Wowk, mwowk84@gmail.com, 780-952-0878,     

N. Edmonton (97 Street and East)

Elsie Kuyt,

780-434-6349

,   

Edmonton and Area

Caroline Prather, caroline55@shaw.ca,

780-993-5621

,         

Sherwood Park

Tim Kihn,

780-717-5058

, 

Sherwood Park

Denise and Kevin Nadeau,

denisenadeau9@gmail.com, 780 405-9316

,

Tofield – Sherwood Park

Alan Durston, alan@durston.ca, 780-920-1425,       

S and W Edmonton.

Ron Ford,  mr_ron_ford@yahoo.ca,     

Camrose, Wataskiwin, Ponoka

Ken Feth, kenfeth@yahoo.com, 780-678-4450,       

Camrose, Wetaskiwin

Darrell Sopel, D_sopel@yahoo.ca, 780-901-3087 ,  

N.Edmonton,  Gibbons, Ft. Sask. Bon Accord

Naomi Legg naomi.legg@gmail.com, 780-905-5344,       

S and W Edmonton.

Al Koberstein, akobe@telus.net, 780-462-8987,     

S and SE Edmonton.

Rob Wynn, wynnr@shaw.ca, 780-970-7620,       

Edmonton

Herman Dixon, hdixon1@yahoo.ca, 780-974-2609,          

S Edmonton, Calmar, Leduc, Beaumont

Herb Plain, herbplain@gmail.com, 780- 963-3363,

cell:

780-914-5912 ,  

     Spruce Grove area. In the County of Parkland

Penelope

Harder,

780-916-1586

,     

South East Edmonton
If all goes well then the swarm can sometimes be taken away in less than an hour (no promises).
A copy of this is being sent to Clint at Bee Maid Coop as well.
If you want to catch your own swarms, make sure to get a few pro tips from an experienced beekeeper like this article from Malcom.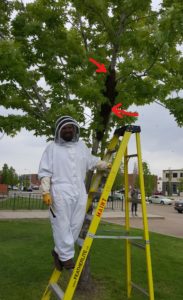 Remember, beekeepers won't help you relocate a dozen bumblebees.  If you see 25 large fuzzy bees going in and out of a hole then you most likely have bumble bees.  A swarm in a tree looks like this  (red arrows)————–>
In support of the entire Beekeeping community, here are some other other sources of information about Swarm Catching in Alberta: ABC , CDBA, Dustin, and City of Edmonton.