If you see a swarm of honey bees and want a responsible beekeeper to come and catch it… we have a list!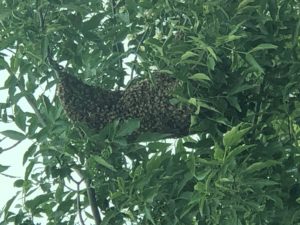 The Edmonton and Area Swarm Catchers List
For the area you are in (Preferred Area), please call one of the wonderful volunteer beekeepers and be prepared to answer a few questions (as best you can):
How high? How big? When it arrived? Do you own the property/house?
If all goes well then the swarm can sometimes be taken away in less than an hour (no promises).
A copy of this is being sent to Derek at Bee Maid Coop as well.
If you want to catch your own swarms, make sure to get a few pro tips from an experienced beekeeper like this article from Malcom.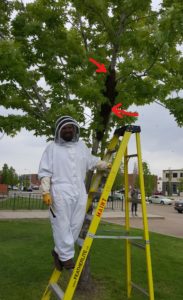 Remember, beekeepers won't help you relocate a dozen bumblebees. If you see 25 large fuzzy bees going in and out of a hole then you most likely have bumble bees. A real honey bee swarm in a tree… looks like this (red arrows)————–>
In support of the entire Beekeeping community, here are some other other sources of information about Swarm Catching in Alberta: ABC , CDBA, Dustin, and City of Edmonton.