If you see a swarm of honey bees and want a responsible beekeeper to come and catch it…  we have a list!
The Edmonton and Area Swarm Catchers List
For the area you are in, please call one of the people and be prepared to answer a few questions:
How high? How big?, When it arrived? and if you own the property/house?
Listed by name, email, phone number and then what area they cover.
 Malcolm Connell, connellmjm@hotmail.com, 780-239-9649,         

Edmonton

Marek Szkudlarek,

780-907-7240

.

SW Edmonton, NW Edmonton

Jason Miller, jasonkmiller79@gmail.com, 780-686-8626, 

SE Edmonton

Michael Wowk, mwowk84@gmail.com, 780-952-0878,     

N. Edmonton (97 Street and East)

Caroline Prather, caroline55@shaw.ca,

780-993-5621

,         

Sherwood Park

Tim Kihn,

780-717-5058

, 

Sherwood Park

Alan Durston, alan@durston.ca, 780-920-1425,       

S and W Edmonton.

Ron Ford,  mr_ron_ford@yahoo.ca ,     

Camrose, Wataskiwin, Ponoka

Ken Feth, kenfeth@yahoo.com, 780-678-4450,       

Camrose, Wetaskiwin

Darrell Sopel, D_sopel@yahoo.ca, 780-901-3087 ,  

N. Edmonton,  Gibbons, Ft. Sask. Bon Accord

Naomi Legg naomi.legg@gmail.com, 780-905-5344,       

S and W Edmonton.

Al Koberstein, akobe@telus.net, 780-462-8987,     

S and SE Edmonton.

Rob Wynn, wynnr@shaw.ca, 780-970-7620,       

Edmonton

Herman Dixon, hdixon1@yahoo.ca, 780-974-2609,          

S Edmonton, Calmar, Leduc, Beaumont

Herb Plain, herbplain@gmail.com,

 

780-914-5912 ,  

     Spruce Grove area in the County of Parkland
If all goes well then the swarm can sometimes be taken away in less than an hour (no promises).
A copy of this is being sent to Clint at Bee Maid Coop as well.
If you want to catch your own swarms, make sure to get a few pro tips from an experienced beekeeper like this article from Malcom.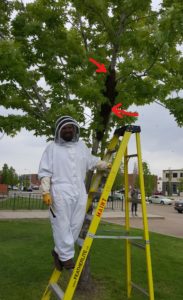 Remember, beekeepers won't help you relocate a dozen bumblebees.  If you see 25 large fuzzy bees going in and out of a hole then you most likely have bumble bees.  A real honey bee swarm in a tree… looks like this  (red arrows)————–>
In support of the entire Beekeeping community, here are some other other sources of information about Swarm Catching in Alberta: ABC , CDBA, Dustin, and City of Edmonton.