The EDBA is a not for profit organization which promotes awareness and education related to the honey bee (Apis Mellifera) and beekeeping in the Edmonton Area.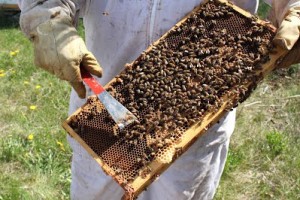 The EDBA has been providing beekeeper support for over 50 years!  Currently, the EDBA has over 100 members who reside in the capital city region. Our members are both commercial and hobbyist beekeepers.  Our meetings are held seven times throughout the year and include informative and timely guest speakers.
Members are kept up to date on the latest advancements in beekeeping and bee health.
Memberships are $25 / year and new members have access to the mentorship program which partners an experienced beekeeper with a beginner.
We happily welcome new members.