Sun

Mon

Tue

Wed

Thu

Fri

Sat

March

1

2

3

4

5

6

7

8

9

10

11

12

13

14

15

16

17

18

April Meeting

17507 Fort Road Northeast, Edmonton, AB, Canada

17507 Fort Road Northeast, Edmonton, AB, Canada

https://edmontonbeekeepers.ca/event/april-meeting-2-2/

This meeting occurs on Thursday, April 18th at 7pm. sharp.

The monthly meeting is at the Northern Alberta Crop Diversification Centre, 17507 Fort Rd. in NE Edmonton.

    On Fort Rd. continue past Alberta Hospital for 100 metres until the first right turn. Then a 100 metres later , you come to the gate of the Crop Diversification Centre.

  The gates will be locked at 7pm. If you come late, don't try and climb over the electric fence.

  Just call 780-460-7773 and beg to be let in.

Someone might be available to unlock the gate, if the meeting hasn't started.

Malcolm

You can pay $25 annual memberships to treasurer Alexis Brown who will probably be near the front entrance to take memberships throughout the meeting.

Make cheques out to 'Edmonton and District Beekeepers Association'.

19

20

21

22

23

24

25

26

27

28

29

30

May

May

May

May
Our members are both commercial and hobbyist beekeepers, meetings are held seven times throughout the year and often include informative guest speakers.  Members are kept up to date on the latest advancements in beekeeping and bee health.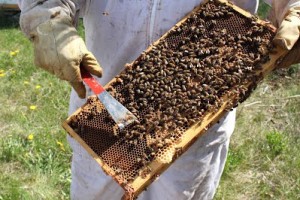 Memberships are $25 / year and new members have access to the mentorship program which partners an experienced beekeeper with a beginner.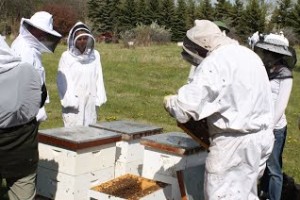 Starting as early as January each year, there are courses offered to introduce Beekeeping to beginners.  The
EDBA
and
Alberta Agriculture
offer some of the most well known and respected classes in Edmonton and area.  Another good starting point is to do some reading about
Beekeeping for Beginners (found here)