Sun

Mon

Tue

Wed

Thu

Fri

Sat

August

August

August

August

August

1

2

3

4

5

6

7

8

9

10

Strathcona County Beekeepers Event

https://edmontonbeekeepers.ca/event/strathcona-county-beekeepers-event/

On Sunday, Sept 10th, starting at 3pm,

Strathcona County Beekeepers will be hosting a Beekeeper's Picnic (the first annual?). Come on out for a fun, educational afternoon. You don't need to keep bees in the County to join us.

Please bring food to share, a chair for yourself, and a sample of your honey. We'll be doing moisture content testing on your honey samples, demonstrating monitoring for varroa mites, and discussing fall feeding, winter wrap designs, and fall pest monitoring and  reatment options.

Guests will include Dr. Medhat Nasr, Provincial Apiculturist,
and Tracey Smith, beekeeper.

The address: 52277 Range Road 225, which is immediately east of Sherwood Park.  One mile east of Highway 21 on Wye Road, go south on Range Road 225 for around one mile. Driveway is on the east side of the road.

11

12

13

14

15

16

17

18

19

20

21

September Meeting

10-70 Alberta Ave, Spruce Grove, AB T7X, Canada

10-70 Alberta Ave, Spruce Grove, AB T7X, Canada

https://edmontonbeekeepers.ca/event/september-monthly-meeting-2/

September 21nd at the Bee Maid Coop in Spruce Grove

Thursday, 7:30pm.

22

23

24

25

26

27

28

29

30
Our members are both commercial and hobbyist beekeepers, meetings are held seven times throughout the year and often include informative guest speakers.  Members are kept up to date on the latest advancements in beekeeping and bee health.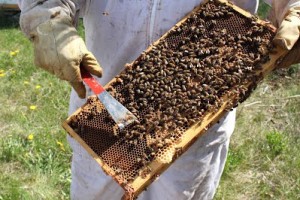 Memberships are $25 / year and new members have access to the mentorship program which partners an experienced beekeeper with a beginner.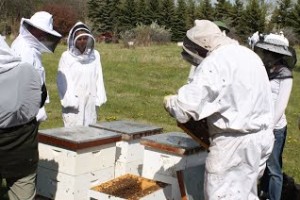 Starting as early as January each year, there are courses offered to introduce Beekeeping to beginners.  The
EDBA
and
Alberta Agriculture
offer some of the most well known and respected classes in Edmonton and area.  Another good starting point is to do some reading about
Beekeeping for Beginners (found here)