We are a not-for-profit organization promoting awareness and education related to the wonderful honey bee (Apis Mellifera). Our members come from all over Edmonton and the surrounding area including St. Albert, Sherwood Park, Sprue Grove, Nisku, Beaumont, Onoway, Alberta Beach, Hardisty, Gibbons and Bon Accord.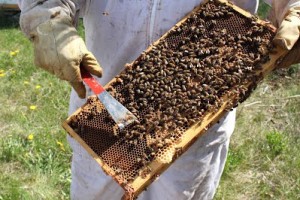 The Edmonton District Beekeepers Association and its over 100 members have been providing helpful beekeeper support for over 50 years to all our commercial and hobbyist beekeepers! Everyone starts with at least one hive.
Our meetings are held seven times throughout the year and include informative and timely guest speakers depending on the season. Feeding advice in the spring to wrapping advice in the fall.
Members are kept up to date on the latest advancements and government policies on beekeeping and bee health.
Memberships are $25 / year and we welcome new members.
Check out our Upcoming events (see below) and come join us at our next meeting!
Lots of folks are also looking for the Swarm Catchers list.
---