Did you want to know a bit more about bees, hornets and wasps from around the world?  It might help answer those questions all your friends and family ask about.
Follow the link to an amazing info-graphic with great pictures in an easy to read format.  Most people think they are just jerks but did you know the difference between a hornet and a wasp?
A big thanks to a little junior beekeeper to be who passed along the information.  Great find Garrett!
Full graphic and the source found here.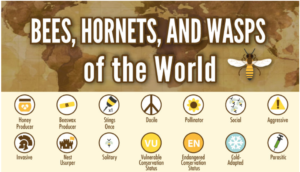 You might already know that there are different types of bees out there, but which ones are important to our ecosystems, which ones are endangered, which ones make honey?